Yeah, their attractive ladies, but that don't mean they can't TCB.
So recently Jezebel posted an interesting article on the movie poster used for the Avengers movie. You know, this one:
and they linked to a deviant art image that someone created that posed the male characters "butt first" to illustrate the ridiculous pose of blackwidow (although looking at this poster now, it occurs to me that Hulk is also butt first, so maybe they were being symetrical...but when you consider this post, the odds are that such an assumption on my part would be incorrect):
So, as these types of things sometimes do , this got me thinking of how this phenomenon manifests itself in video game marketing. Turns out that while there is a lot of sexualized imagery, the "butt first" pose does not seem to crop up as much. Except of course for Street Fighter's Cammy, a notorious"butt poser":
In fact there are several cases where the female characters are portrayed in poses that are similar to their male counter parts.
One particularly surprising example of gender equality is Saints Row the Third. Saint's Row is interesting to me from an anthropological standpoint. They have never shied away from the sort of pandering marketing that video games are famous for. For Saints Row 2, the marketing department hired pornstar Tera Patrick as a "producer".
As someone who has aspired to become a producer myself, I found this honorarium to add a bit of insult to injury. The relationship between Saints Row and sex worker spokesmodels continued with Saints Row the Third, when they hired Niki Benz and Justine Joli to introduce the initiation station: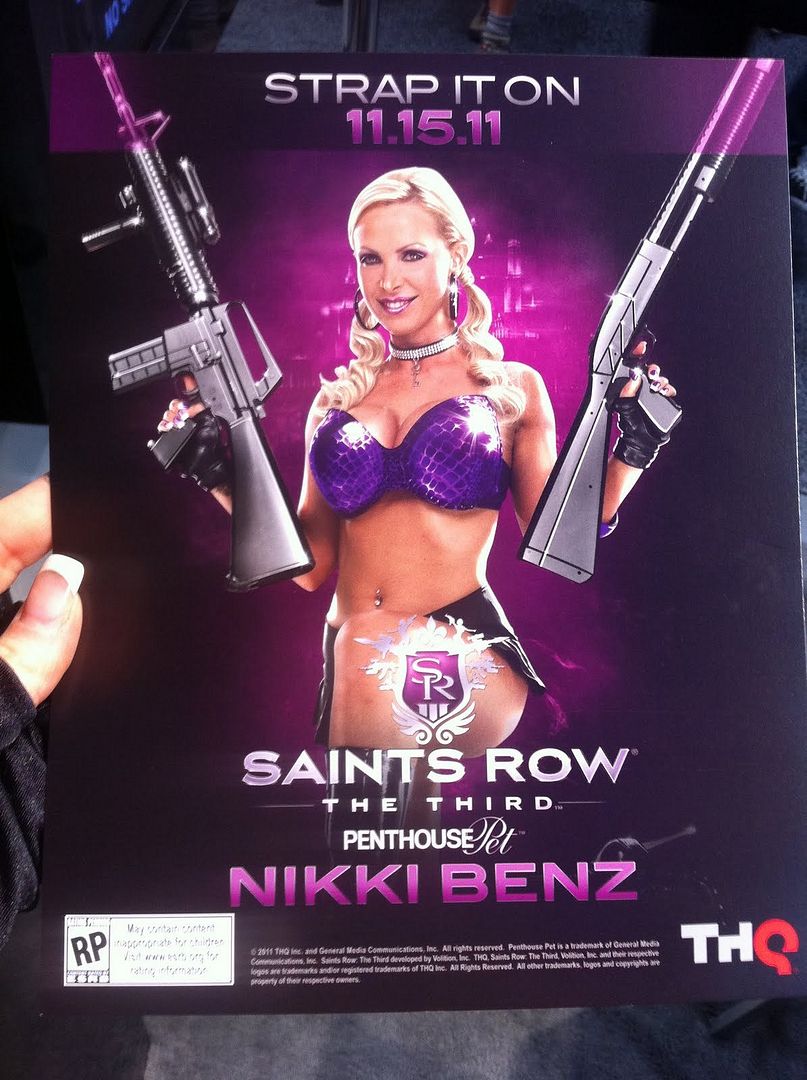 Additionally, at E3 2011, the marketing team for Saints Row the Third gave everyone free parking across from the convention center and offered bikini car washes branded by the in game auto shop "Rim Jobs":
Inside the convention, girls walked around with shirts saying "I Love Rim Jobs" and handing out "Strap it On" bumper stickers: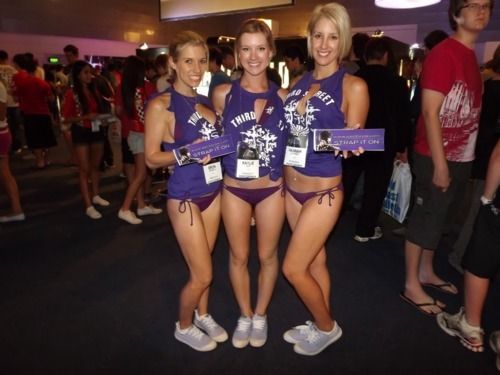 So when I played Saints Row the Third I was surprised to find that the issue of sexuality and gender equality was handled admirably. Volition gives you the option to play as a male or female character and despite that fact that your running around with "hos" and talking about installing stripper poles, it doesn't really seem like the female avatar is out of place as a leader. The voice over for the female avatar is strong, funny, and flirty but not any more so than her male counterpart. This equality is also apparent in the marketing material for saints row the third.
And this sort of gender equality isn't new to the series. Here's some promo art for the first Saints Row: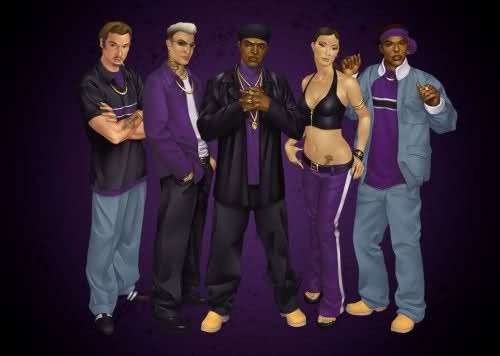 Let's take a look at this image for a minute. First off, the most striking thing is the fact that the Saints embrace diversity. You don't see the sort of white washed character design that you get in most gangs. Especially when you consider that the leader and 2nd in command of the saints are a black man and an asian man. The only (presumably) white individual in this image is off to the side not front and center. The woman in this image is wearing less clothes than here male companions, but her stance is still as confrontational as her counterparts. While slightly feminized her body position is not overtly sexualized.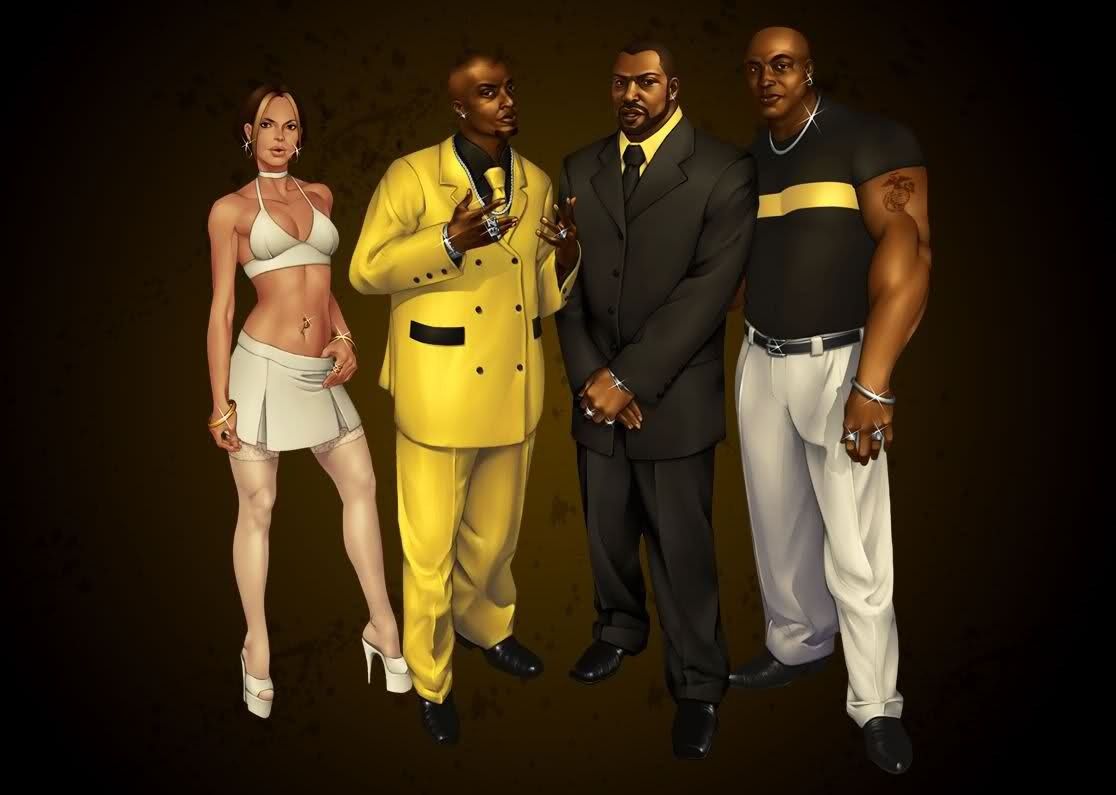 .
The official image of the rival gang the Vice Kings is more problematic. The only woman in this gang is wearing an extremely sexualized outfit with huge heels, thigh highs, mini skirt and is posing with a ridiculous open mouth duck face. It's not hard to imagine the Saint pictured above being able to fight in her sporty spice pants, but this girl would be hard pressed to hold her own without quickly losing her balance.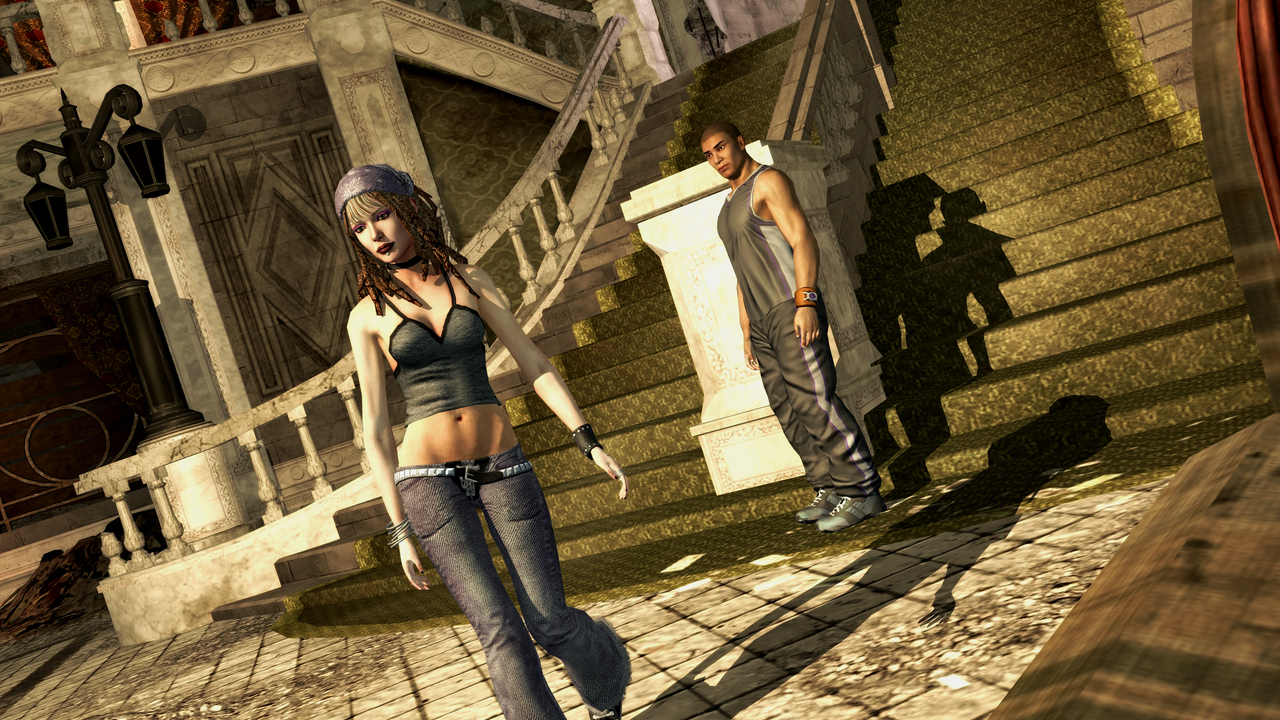 One of the central characters, Shaundi (pictured above) first showed up in Saints Row 2. In that game she was a bit more of a stoner than she is in the third game where she seems to have grown up a bit, or maybe the school of hard knocks has toughened her up. In Saints row she was portrayed as sexy, bikini top, low rise jeans, etc, but even in the official wallpaper she's showed with the typically male gesture of crossed arms, facing the viewer, making eye contact and basically being as tough as the male saints she rolls with: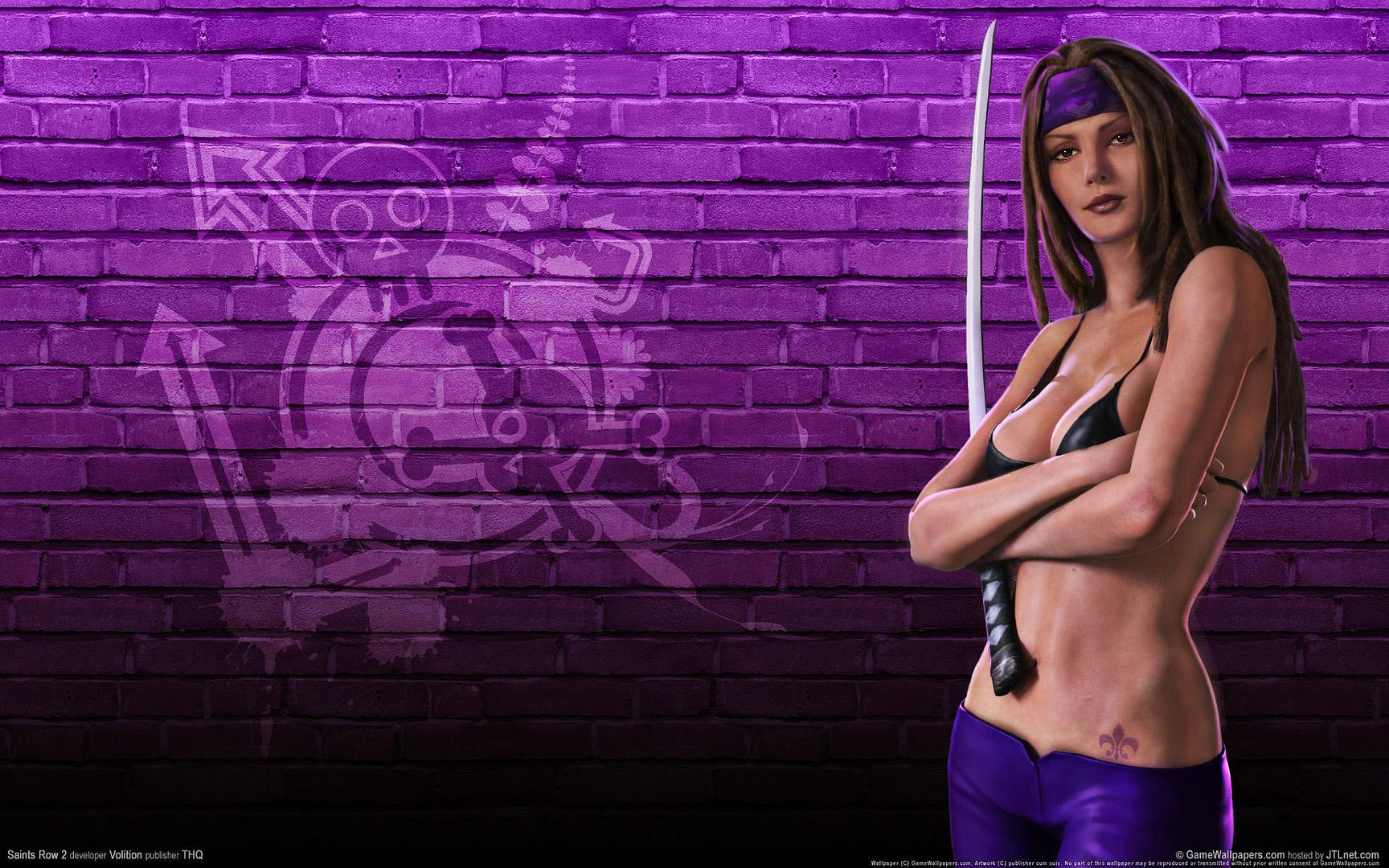 In Saint's Row the Third, Shaundi's character is fairly complex, she's dealing with loss and anger and pain in a way that is surprisingly heart felt for such a wacky action game. In Saints Row the Thrid's marketing, Shaundi is often portrayed in action shots alongside her male companions and in most cases the poses, while fanciful are not the sort of hyper sexualized "pin up" pose seen on most movie posters. Her are some examples of Shandi (sadly minus her dread locks) front and center: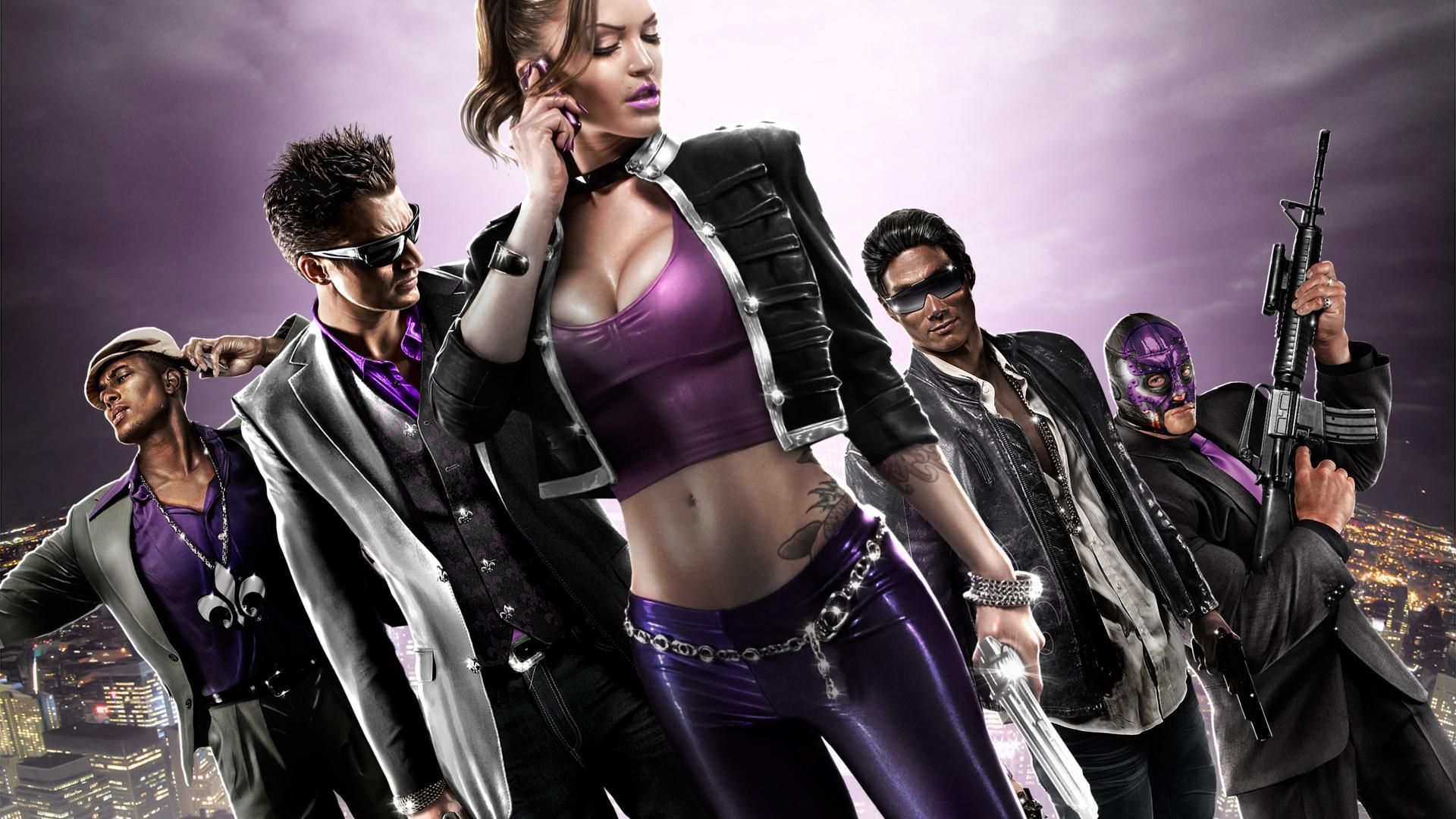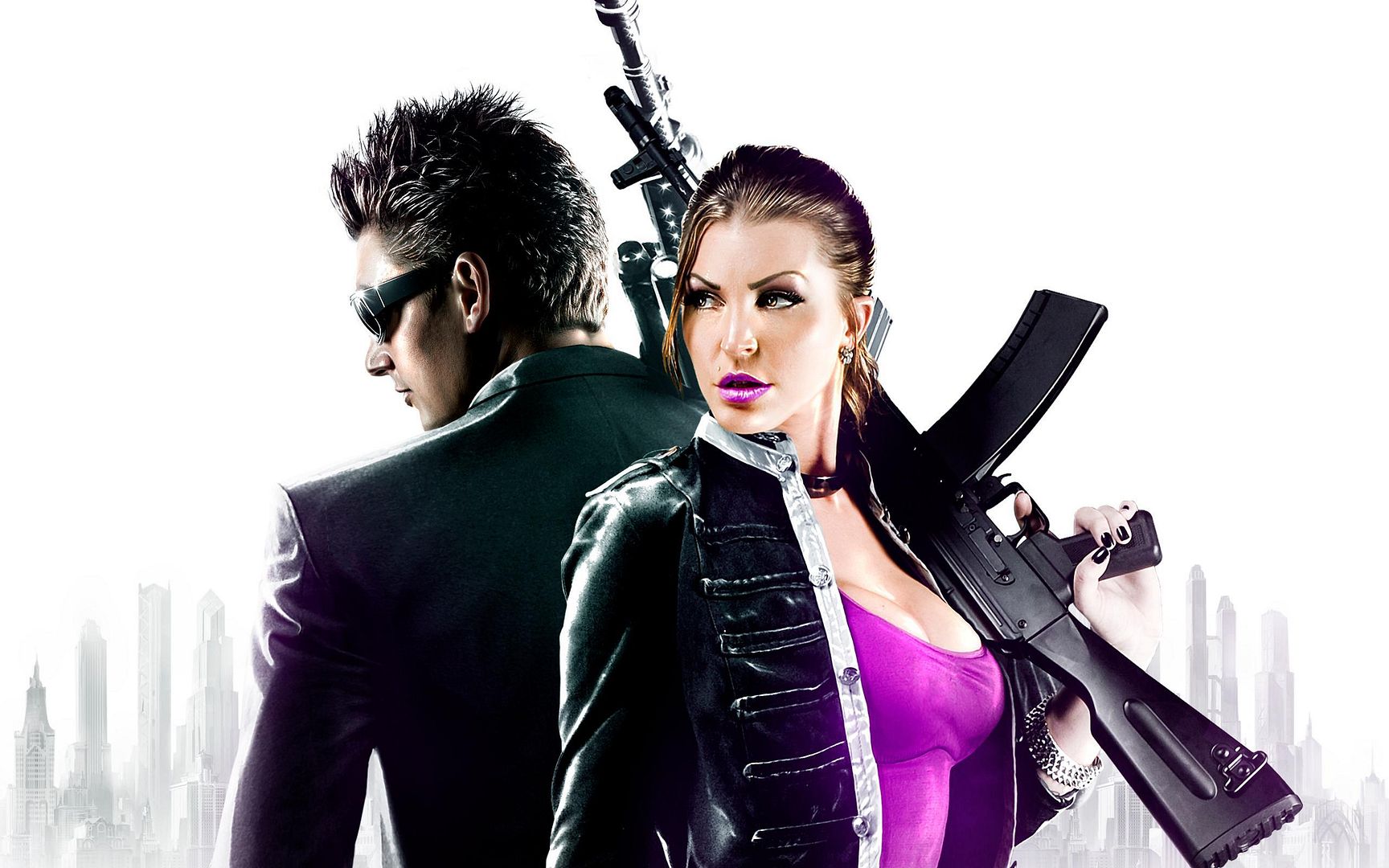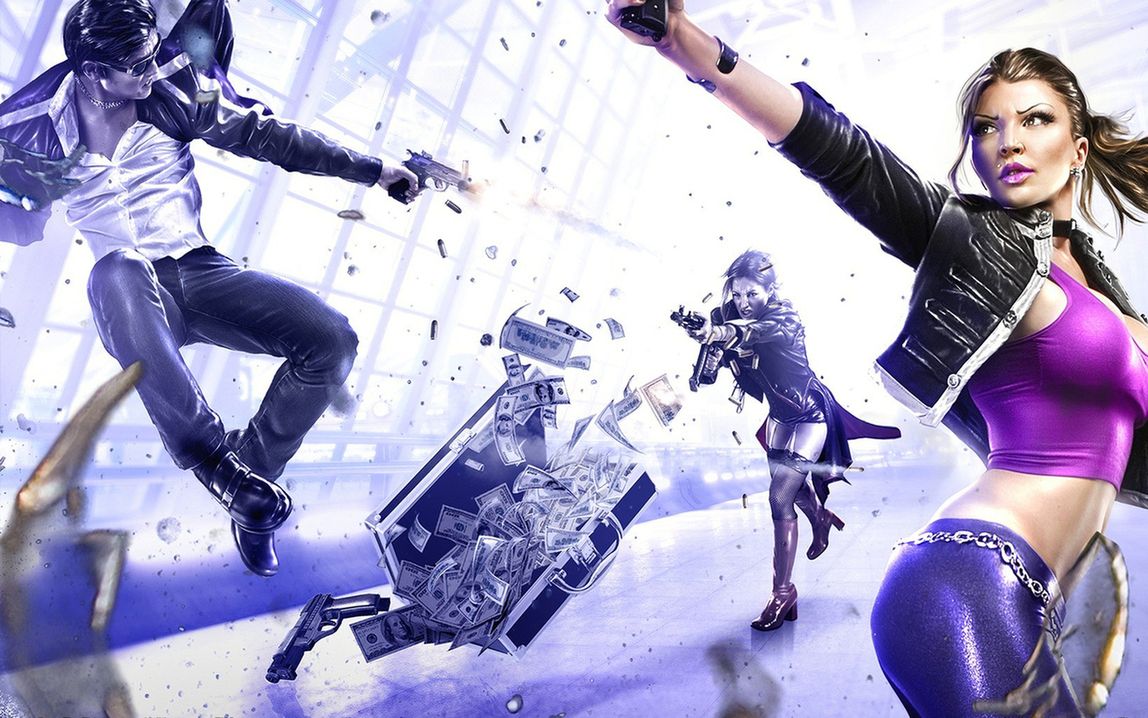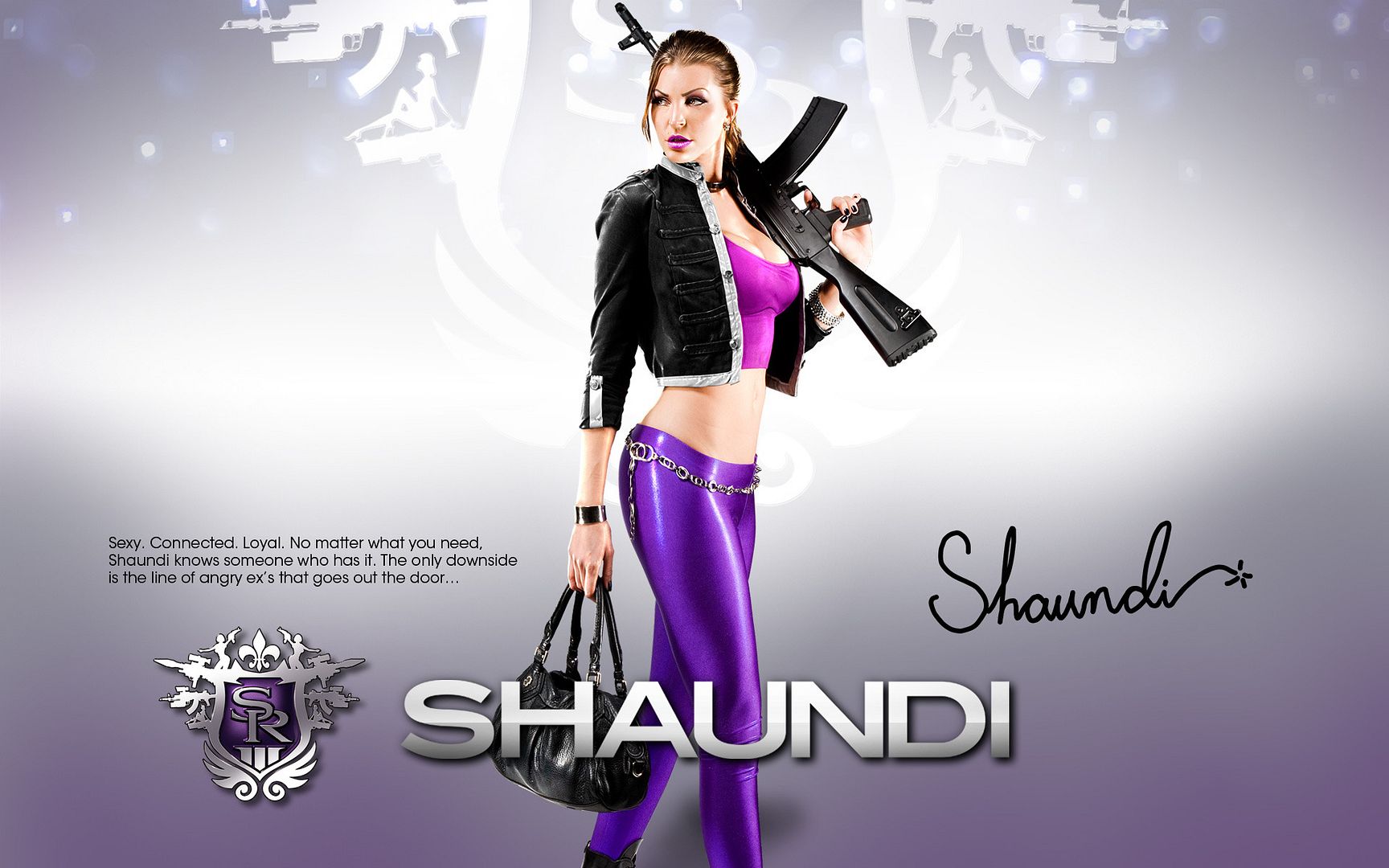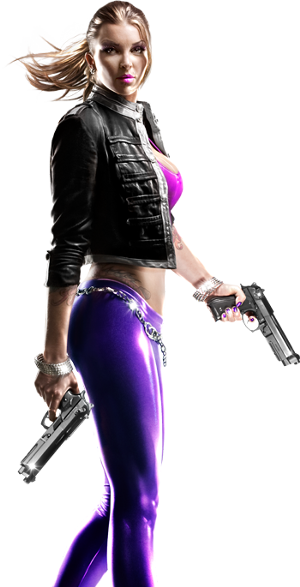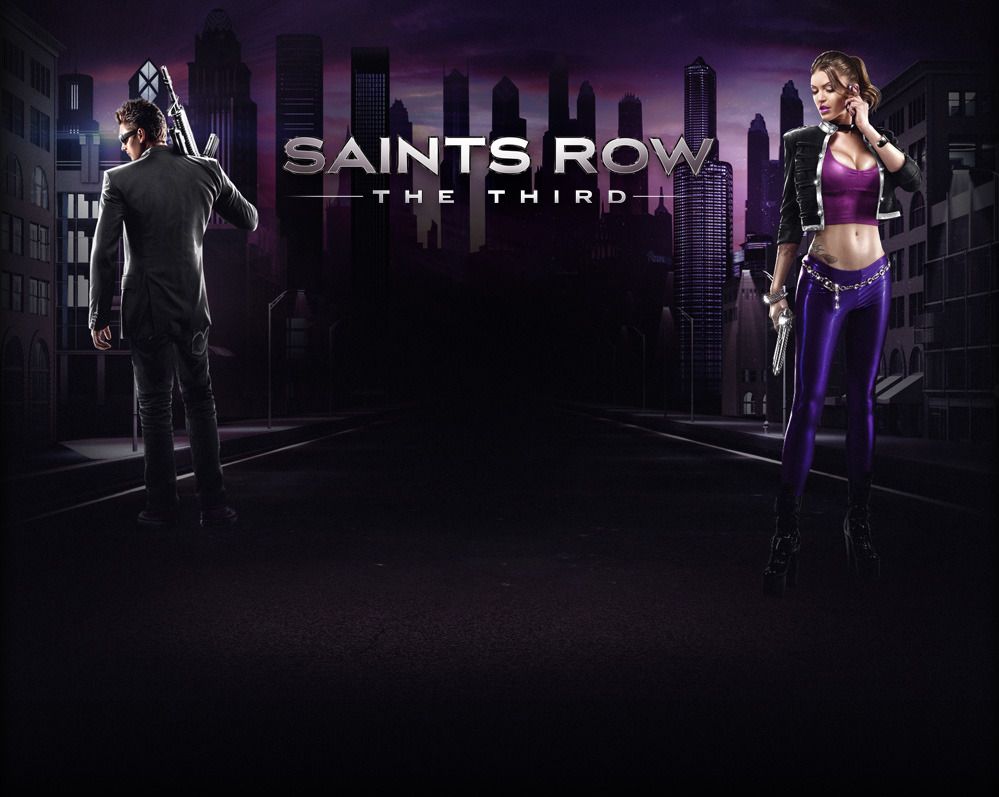 Now, Shaundi is obviously wearing an outfit that conforms to a certain awareness of the male gaze. But given the outrageous nature of her fellow saints her get up not as out of place as something like this:

or this: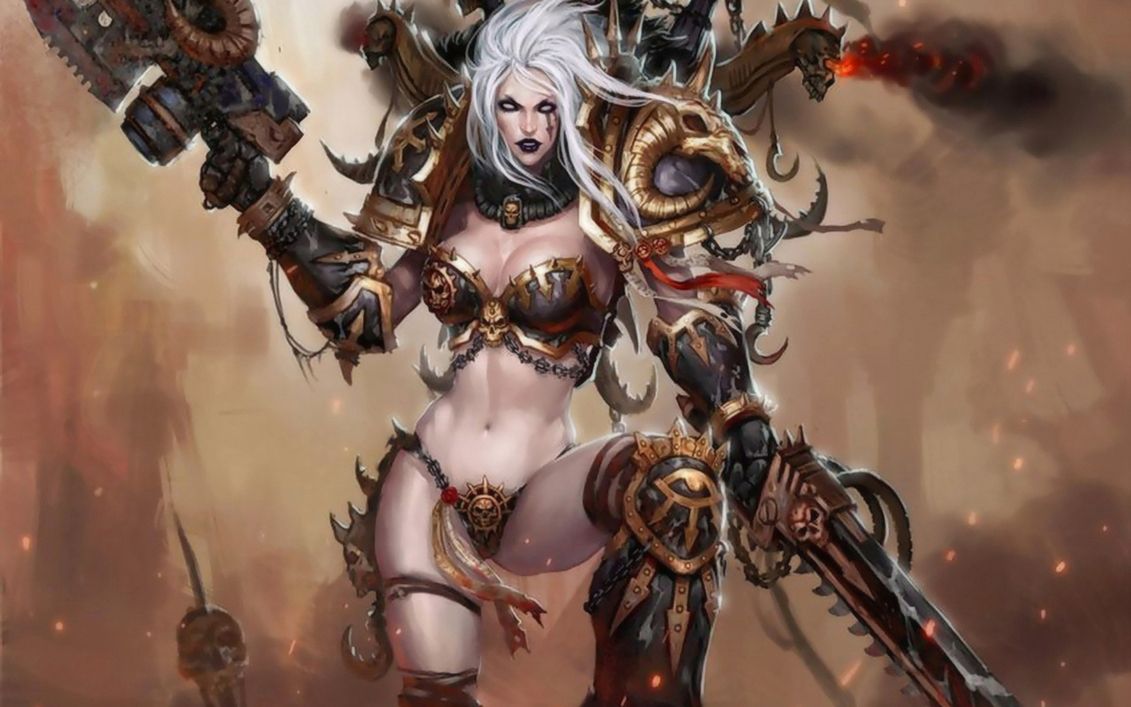 But shandi isn't the only female character in saints row that is allowed to be as bad ass as their male counter parts. Here are some other examples: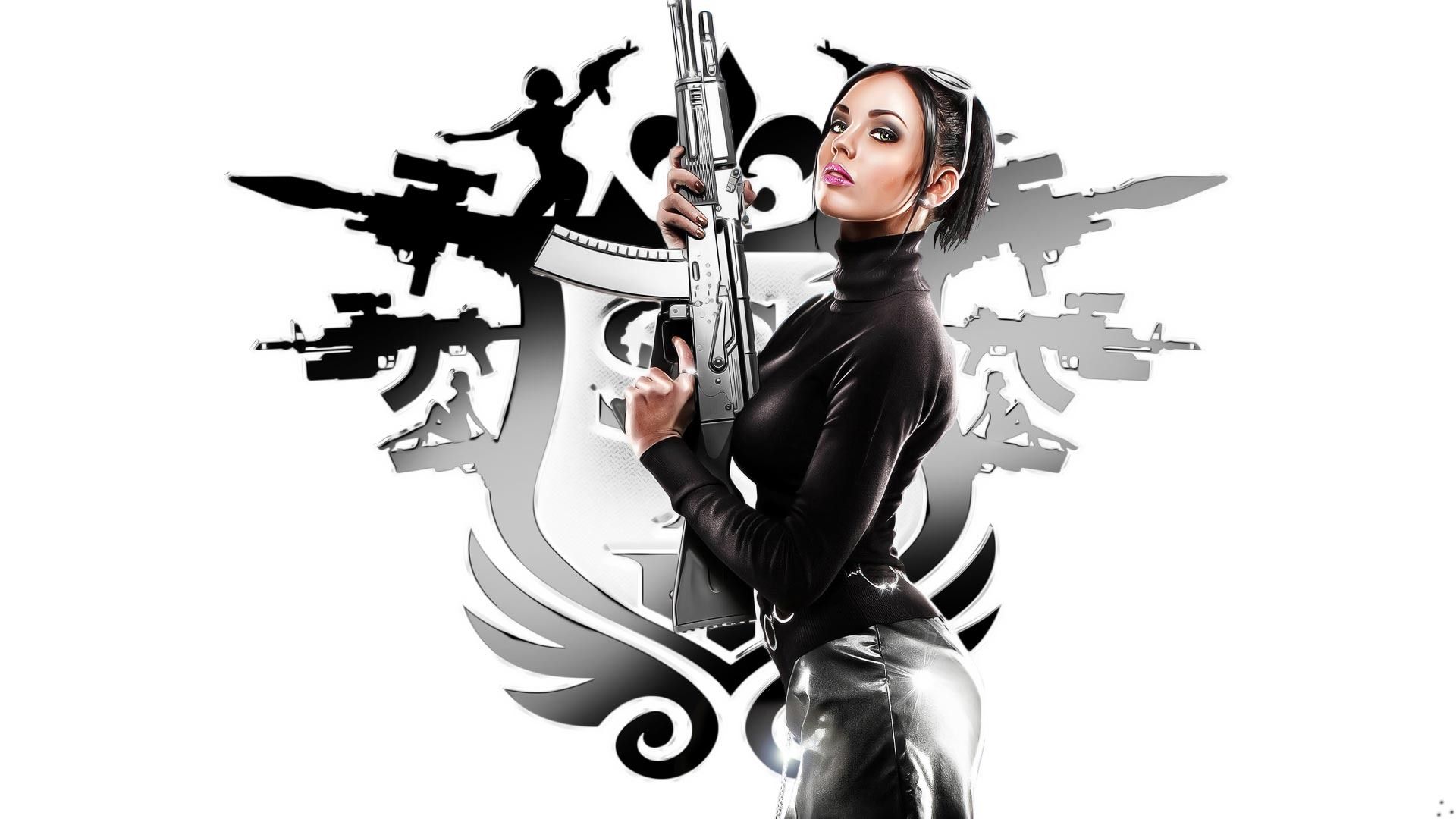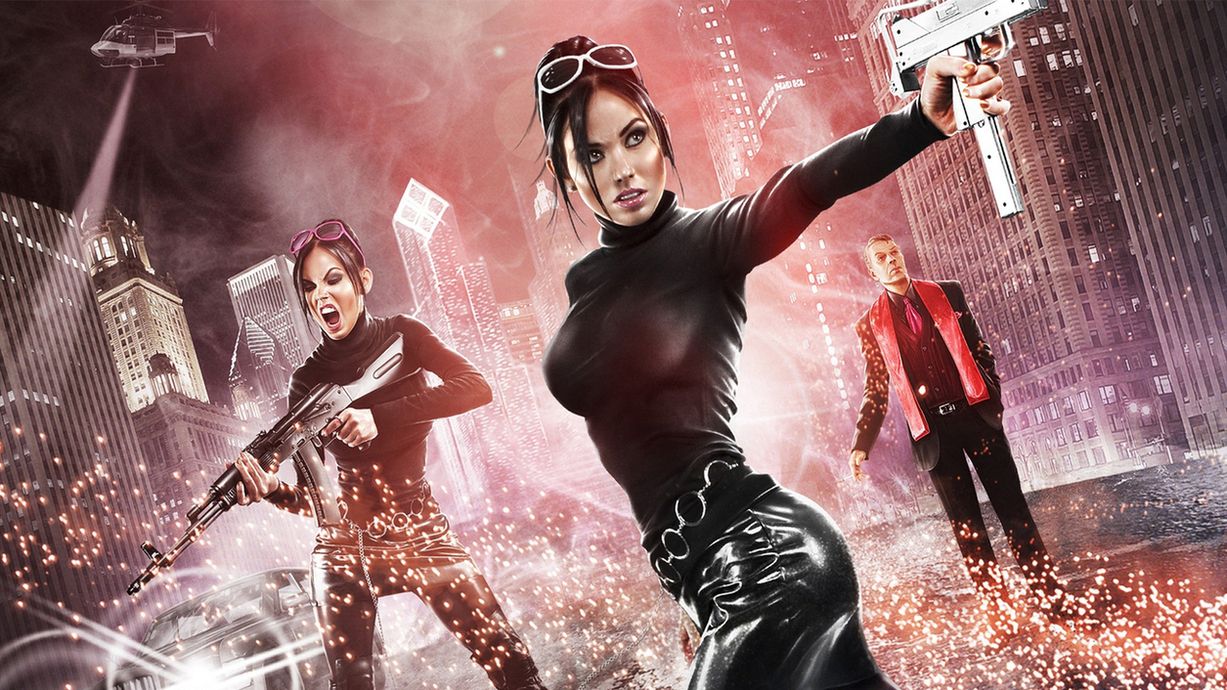 The way that Viola is holding the machine gun in that first image is leering a bit towards the phallic object pin up, but in the second images she and her sister are seen blasting away white the demure Phillipe stands in the background occupying the typically feminine role of bemused onlooker. The last image is pretty great as well, the female in this scene is snarling and there doesn't seem to be anything overtly sexy about her, despite the fetishized cheerleader outfit. But the person showing the most skin in this image is the oiled up luchador so it's kind of a toss up.
I suspect it's this egalitarian portrayal of hte heroines of Saints Row the Third that inspired cosplayers like deviant artist youronlydoll to choose Shaundi for her latest project. As you peruse a few shots of her in character ask yourself if any other video games let women have as much fun as Saints Row the Third.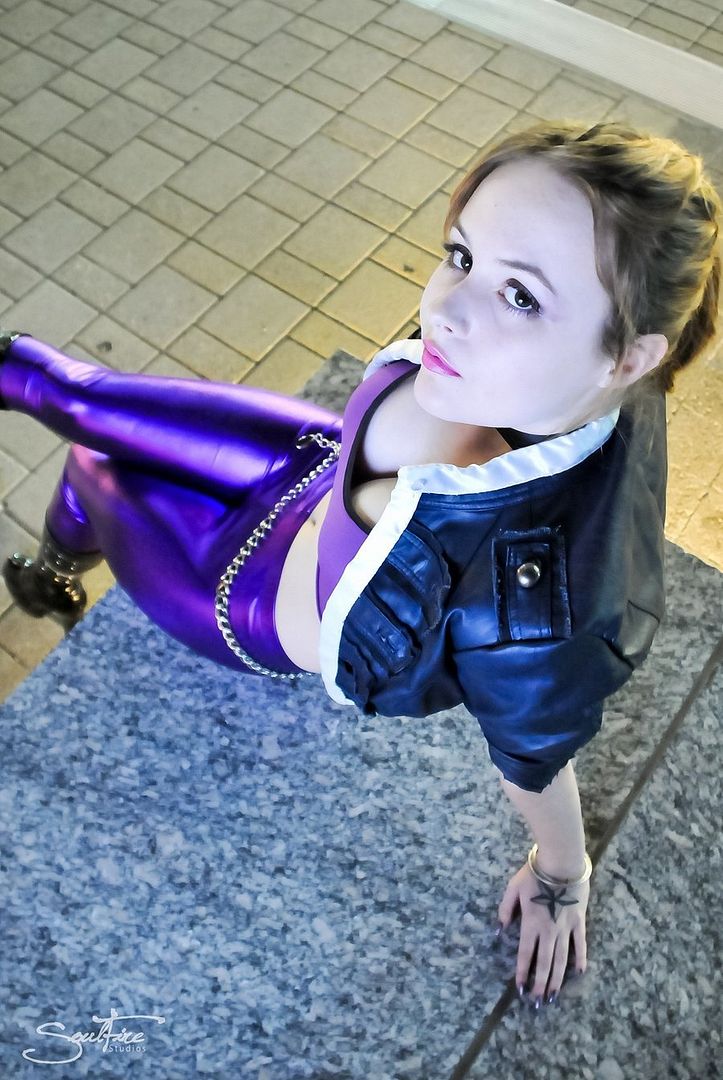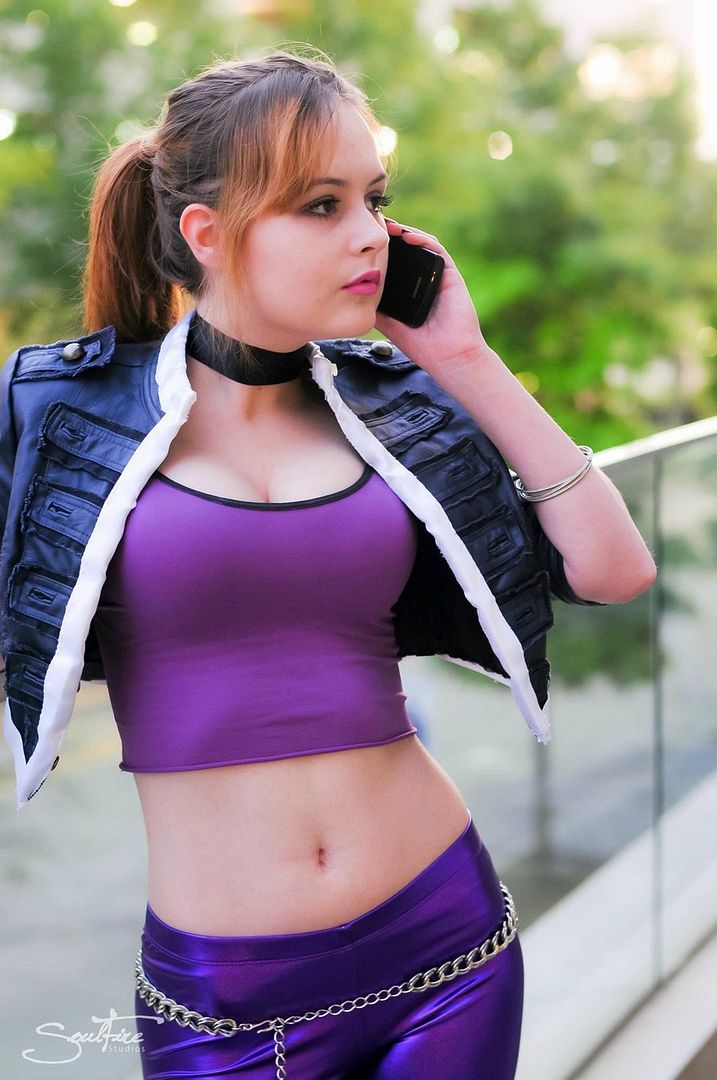 Update: Yeah, so the next DLC was just announced, I'll post the trailer here without comment, but ahem.