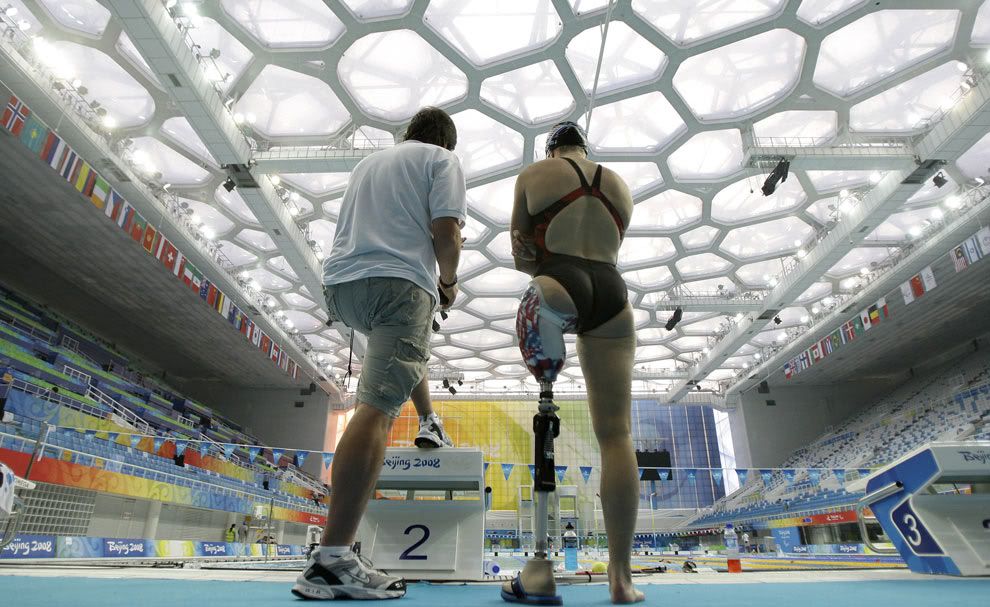 Melissa Stockwell, right, of the United States, chats with coach Jimi Flowers during a U.S. team training session for the 2008 Beijing Paralympic Games, at the National Aquatics Center, known as the Water Cube, in Beijing Friday Sept. 5, 2008. Stockwell is one of two U.S. veterans competing in Beijing who were injured in Iraq.
The Boston Globe
has recently posted several fascinating pictures from the 2008 Paralympic games which were recently held between Sept. 6th and 17th in Bejing.
Say what you want about Michael Phelps' accomplishment, but that guy is a genetic anomaly. I've gotta give a tip of the cap to this guy:
Rudy Garcia Tolson of the U.S. swims during the men's 200m individual medley SM7 heat at the 2008 Paralympics in the National Aquatics Centre, also known as the Water Cube, in Beijing September 7, 2008.
I'm going to post a few of the most compelling images below, but you should really click over and read the captions. There are some amazing pictures and events that I wouldn't have even thought possible, like a sport which is essentially "soccer for the blind". Inspiring images in these dark times: