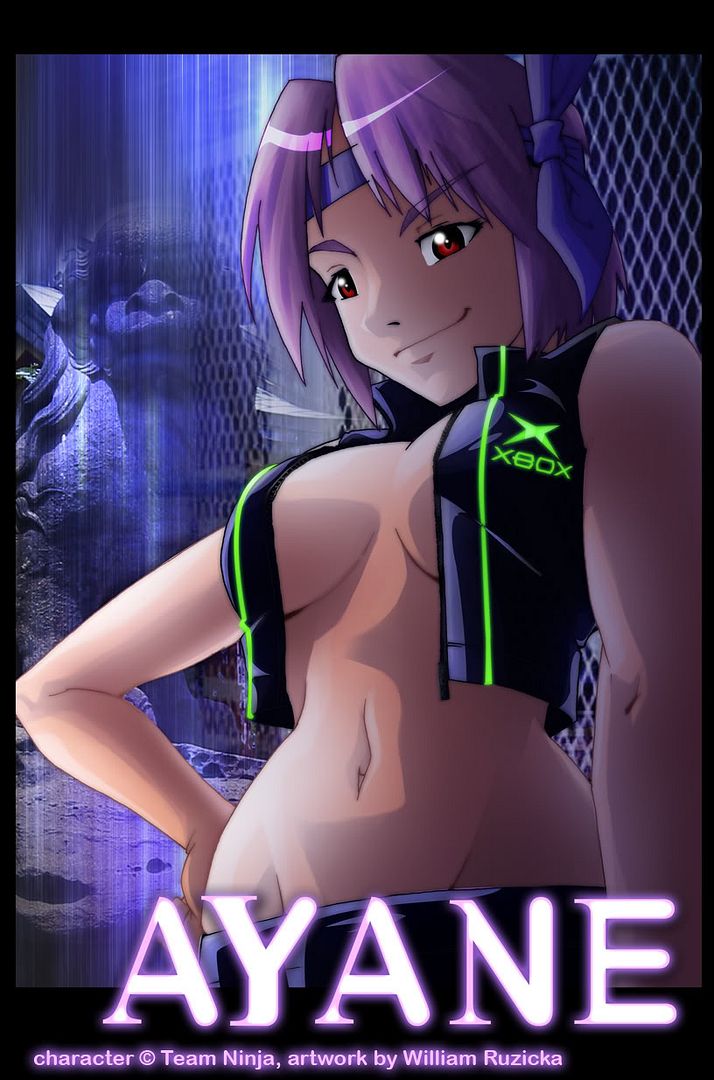 Image by deviant artist Ryusuke
I gotta hand it to
Destructoid
, they are second only to
Kotaku
in keeping the world, ahem, abreast of developments in the world of digital fiddly bits.
Editorial Note: HOLY CRAP! That's just obnoxious. I was kind of hoping that the loss of Tomonob Itagaki would calm down tecmo's breast fetish, but I can see that it has not. I mean seriously. Seriously. This chick is a mutant.
And at their latest "human interest" piece is no different. The post several jiggltronic Screenshots from the forthcoming PS3 version of Ninja Gaiden 2 and effortlessly justify it with some actually interesting tidbits about the newly implemented
co-op mode
. Apparently this mode will will see series protagonist Ryu fighting along side Ayane from Dead or Alive as well as a character named Momiji who was in the DS version.
Becca and I played Ninja Gaiden Black for about 15 minutes. Then we got to the first boss, then we stopped playing Ninja Gaiden. I gotta hand it to Tecmo, these games look great, but they are really just to damn hard, at least for me. I'm sure some folks out there like the challenge, but I only have so much time to play video games, and spending three hours to beat a first level boss isn't how I'm going to spend it. Having said that, I could see co-op going a long way towards making these games fun. I find replaying frustrating segments in co-op a little more bearable. Anyone else think the "Derrick" scene at the begining of Gears of War 2 is frustrating? I do, I guess I couldn't figure it out, but I kept dying and I was really sick of it. Then becca and I played through it and even though we died a couple times, we got through it and it didn't seem as bad. So I could see where co op might help this game. Too bad I don't have a PS3, or Ninja Gaiden 2 for that matter, but that won't stop me from posting some of the screens that I lifted from D'toid: